The whole world takes on a magic glow at Christmas. People look happier, the atmosphere around is merrier. It's the most wonderful time of the year. As I have celebrated Christmas over the years, following tradition passed down from generation to generation I was curious to know how the rest of the world celebrated.
Every festival has its own rituals or customs that make the holiday season so special. Let's travel around the world and take a look at some favorite Christmas traditions that are loud, proud, and guarantee oodles of festive fun.
Philippines – Giant Lantern Festival
The Giant Lantern Festival (Ligligan Parul Sampernandu) is held each year on the Saturday before Christmas Eve in the city of San Fernando – the "Christmas Capital of the Philippines." The festival attracts spectators from all over the country and across the globe. Eleven barangays (villages) take part in the festival, fiercely competing to build the best lantern. The lanterns used to be simple creations around half a metre in diameter, made from 'papel de hapon' (Japanese origami paper) and lit by a candle. Today, the lanterns are made from a variety of materials and have grown to around six metres in size. They are illuminated by electric bulbs that sparkle in a kaleidoscope of patterns and light up the skies for nine days.
Gävle Goat, Sweden
The peculiar story about the Gävle Goat started in 1966 when someone came up with the idea to design a giant version of the traditional Swedish Christmas straw goat. The idea was to attract customers to the shops and restaurants in the southern part of the city. On the first Sunday of Advent 1966, the huge goat – 13 metres tall, was placed at Castle Square. Since then, the Gävle Goat has been a Christmas symbol placed in the same spot every year. Today he is world-famous. The goat is the world's largest straw goat and made it to the Guinness Book of Records for the first time in 1985. This Swedish Christmas tradition has unwittingly led to another "tradition" of sorts – people trying to burn it down. Since 1966 the Goat has been successfully burned down 29 times – the last time being in 2016.
austria – Krampus
Every year in early December, children in Austria get ready for St. Nicholas to visit them. If they've been good, he'll reward them with presents and treats. But if they've been bad, they'll get a lot more than a lump of coal—they'll have to face Krampus, St. Nicholas's evil accomplice, a beast-like demon creature who roams city streets frightening kids and punishing the bad ones. Krampus is said to capture the naughtiest children and whisk them away in his sack. In the first week of December, young men dress up as the Krampus (especially on the eve of St. Nicholas Day) frightening children with clattering chains and bells. I hope you have all been nice, or Krampus will come calling, not just in Austria. 😃
japan – Kentucky Fried Christmas Dinner
In Japan, where around 1% of the population is Christian, Christmas isn't an official holiday, So the idea that families are going to spend all day cooking a ham or turkey and side dishes just wasn't practical. Instead, they show up with a bucket of chicken. Christmas season, an estimated 3.6 million Japanese families treat themselves to Kentucky Fried Chicken, in what has become a nationwide tradition. It started thanks to the manager of the first KFC in the country, Takeshi Okawara. Shortly after it opened in 1970, Okawara woke up at midnight and jotted down an idea that came to him in a dream, after overhearing a couple of foreigners say how much they missed having turkey at Christmas.: a "party barrel" to be sold on Christmas. Thus began the Kentucky Fried Chicken Christmas dinner in Japan.
iceland – The Yule Lads
13 tricksy troll-like characters come out to play in Iceland. The Yule Lads (jólasveinarnir or jólasveinar in Icelandic) visit the children across the country every night for the 13 nights leading up to Christmas. For each night of Yuletide, children place their best shoes by the window and a different Yule Lad visits leaving gifts for nice girls and boys and rotting potatoes for the naughty ones. Clad in traditional Icelandic costume, they are pretty mischievous, and their names hint at the type of trouble they like to cause: Stekkjastaur (Sheep-Cote Clod), Giljagaur (Gully Gawk), Stúfur (Stubby), Þvörusleikir (Spoon-Licker), Pottaskefill (Pot-Scraper), Askasleikir (Bowl-Licker), Hurðaskellir (Door-Slammer), Skyrgámur (Skyr-Gobbler), Bjúgnakrækir (Sausage-Swiper), Gluggagægir (Window-Peeper), Gáttaþefur (Doorway-Sniffer), Ketkrókur (Meat-Hook) and Kertasníkir (Candle-Stealer). Visit Iceland and be a part of the fun.
germany – Saint Nicholas' Day
Not to be confused with Weihnachtsmann (Father Christmas), Nikolaus travels by donkey in the middle of the night on December 6 (Nikolaus Tag) and leaves little treats like coins, chocolate, oranges, and toys in the shoes of good children all over Germany. St. Nicholas also visits children in schools or at home and in exchange for sweets or a small present each child must recite a poem, sing a song, or draw a picture. In short, he's a great guy. But it isn't always fun and games. St. Nick often brings along Knecht Ruprecht (Farmhand Rupert). A devil-like character dressed in dark clothes covered with bells and a dirty beard, Knecht Ruprecht carries a stick or a small whip in hand to punish any children who misbehave. If you are in Germany and hear a knock on your door, it's probably St. Nicholas come calling.
norway – Hiding the brooms
In Norway, you will want to do your Christmas cleaning long before Christmas Eve because on the night of Christmas every smart (or superstitious, depending on who you ask) Norwegian will hide all the brooms in the house. December is the darkest time of the year and in Norway it's a long-held belief that mischievous spirits and witches roam the lands during the period. This is of course bad news for all the broom-owners, because the witches will be lurking about looking to steal a broom for their traditional Christmas night-ride.
Even if you are not in Norway, just put aside brooms and cleaning and enjoy Christmas with loved ones. After all, Christmas witches exist in other parts of the world as well.😉
Venezuela: Christmas roller skating
Every year between 16th and 24th December in Caracas, Venezuela, people roller skate to the early morning Christmas mass. On their way, skaters will tug on the ends of long pieces of string tied by children to their big toes and dangled out of the window. This unique tradition is so popular that roads across the city are closed to cars so that people can skate to church in safety, before heading home for the less-than-traditional Christmas dinner of 'tamales' (a wrap made out of cornmeal dough and stuffed with meat, then steamed).
colombia – Day of the Little Candles
Little Candles' Day (Día de las Velitas) marks the start of the Christmas season across Colombia. In honour of the Virgin Mary and the Immaculate Conception, people place candles and paper lanterns in their windows, balconies and front yards. The tradition of candles has grown, and now entire towns and cities across the country are lit up with elaborate displays.
ukraine – Spider Christmas
Have you heard of arachnid decorations for Christmas? This tradition of using spiders and cobwebs on Christmas trees originates from a legend in Ukraine. The traditional Ukrainian Christmas tree is draped not with tinsel and baubles, but with spiders' webs – or in most cases, an artificial substitute. The tradition grew up around the legend of a family so poor that their tree would have gone bare, had it not been for a spider spinning a beautiful web over it in time for Christmas morning. This legend is said to have inspired some longstanding Christmas traditions, like silvery tinsel and spider ornaments on trees.
Finland – a festive sauna -'Hyvää Joulua!'
With more than two million saunas shared between just 5.5 million people, it's no surprise that the famed Finnish sweatbox plays a role in the country's festive traditions.
The peak of Finnish Christmas celebrations comes on Christmas Eve, when Finns head to the sauna to strip off and relax before the evening festivities. After a light lunch, almost everyone in Finland takes to the sauna, a great way to ease tensions.
But they have to be quick: according to folklore, the spirits of dead ancestors bathe in the sauna after the early Nordic sunset.
Czech Republic: shoe tossing for a husband
A Christmas Eve custom invites single Czech women to stand with their backs to the front door and remove a shoe. They hurl it over their shoulder towards the door and how it lands predicts their romantic prospects for the year. If the toe of the shoe faces the door, the thrower is destined to marry. If it's the heel, it's another painful 12-month wait.
USA – Find the pickle
While most American Christmas customs are familiar across much of the world, like – turkey, carols, presents under the tree. However, one custom is likely to be alien to most – the Christmas pickle.
In parts of the Midwest, families hang a glass pickle ornament on the tree hidden in the branches, and the children search for it. The first to spot the Christmas pickle will get good luck for the rest of the year, or sometimes an extra present.
Many Americans believe the Christmas pickle to be a venerable old-world custom brought over by German immigrants, with some even calling it by the German name, weihnachtsgurke. Though an interesting fact is not many Germans have heard of the Christmas pickle. 🙃
Mexico: 'Feliz Navidad!'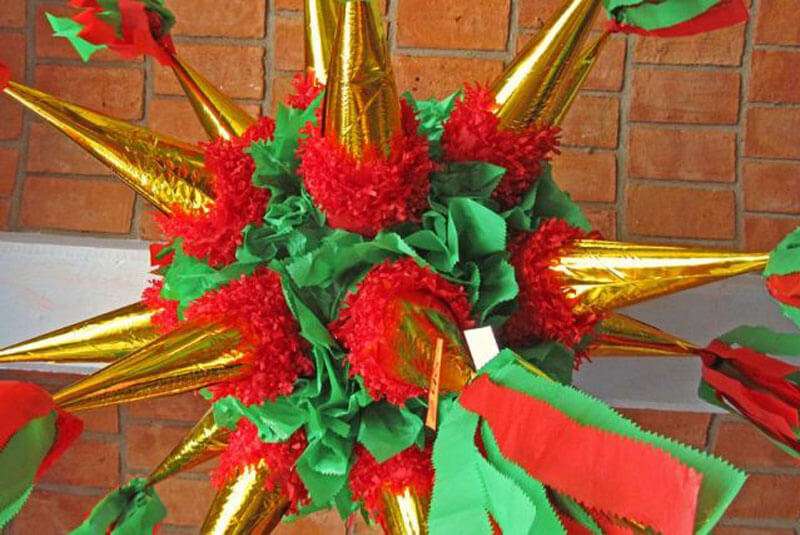 In Mexico, papier-mâché sculptures called piñatas are filled with candy and coins and hung from the ceiling. Children then take turns hitting the piñata until it breaks, sending a shower of treats to the floor. Children race to gather as much of the loot as they can.
Great britain – Wassailing
Wassailing is a very ancient custom. The word 'wassail' comes from the Anglo-Saxon phrase 'waes hael', which means 'good health'. Originally, it was a drink made of mulled ale, curdled cream, roasted apples, eggs, cloves, ginger, nutmeg, and sugar. It was served from huge bowls, often made of silver or pewter. Wassailing was traditionally done on New Year's Eve and Twelfth Night, but some rich people drank Wassail on all the 12 days of Christmas!
In parts of England (such as Somerset and Sussex) where apples are grown, especially for cider, Wassailing still takes place on the Twelfth Night, Christmas Eve, or New Year's Eve. People go into apple orchards and then sing songs, make loud noises and dance around to scare off any evil spirits and also to 'wake up' the trees so they will give a good crop!
It's also common to place toast which has been soaked in beer into the bows of the trees to feed and thank the trees for giving apples. That's where the term to 'toast' someone with a drink comes from!
Well, Christmas is just round the corner, if you have any of your traditions you would like to share, I'm sure my readers and I would love to read about them. So please share them in the comment section.
Maligayang Pasko!! God Gul!! Frohe Weihnachten!! Merikurisumasu!! Gledileg Jol!!
Fröhliche Weihnachten!! Feliz Navidad!! Shchaslyvoho Rizdva!! Hyvää joulua!! Veselé Vánoce!!
Each one of the above say the same thing – Merry Christmas Everyone!!